Our guidelines provides guidance on how to prepare your image for printing on fabric.
---
chat_bubble_outlineKey Points
JPG, BMP, GIF, TIF & PNG files accepted
100MB file size limit. Larger files can be sent using WeTransfer
Recommended 180 DPI
RGB colour mode
sRGB colour space
Flattened with no layers or transparency
Order a swatch of your design on your fabric of choice before committing to a larger order
File Type
You can upload your design as a JPG, BMP, GIF, TIF & PNG with a maximum file size of 100MB. If you experience difficulty uploading a large file, try reducing the resolution of your image to reduce the file size. The size your design prints can be altered using the scale option if required.
For great results, we recommend creating a high quality JPG at 180 DPI in the RGB colour mode and sRGB colour space, specifically, the sRGB v2 or v4 Preference. Always embed the ICC profile in your image.
Scale
Scale alters the resolution your design is printed at. Our system will try to detect the resolution of your design. If our system cannot detect a resolution, it will default to 180 DPI (Dots Per Inch).
Reducing scale makes your design smaller but it will print with greater detail
Increase scale makes your design larger but it will print with less detail
Your image may lose detail and appear blurry / pixellated if it is enlarged too much.
Colour
Our printers are set up to receive files in RGB. If a file is not in RGB it will be converted to RGB. This can create unexpected results. On this basis we do not recommend uploading files in CMYK or Greyscale.
Increasing colour saturation will make colours as bright and bold as possible
Ensure there is sufficient contrast between dark colours otherwise they may blend together
Fine detail is printed best when there is high contract between colours
Samples
Once you have your file set up, we highly recommend ordering a sample before committing to a larger purchase.
You can purchase a sample of your design printed on any of our fabrics, so that you can see exactly how your design will look before you go on to order larger pieces.
How Colour Differs On Screen to Print
Colour on a screen is made from Red, Green and Blue light (RGB). Colour on a screen is additive which means you start with a black background and add colour.
Colour on a print is made from a combinations of colour inks. Our pigment printers use Cyan, Magenta, Yellow, Black, Orange, Red, Violet and Grey ink (CMYKORVk) and our dye sublimation printers use Cyan, Magenta, Yellow and Black ink (CMYK). Colour on a print is subtractive which means you start with a white background and block out parts of the spectrum.
The RGB colour spectrum is much larger than the colour spectrum for CMYKORVk or CMYK. This means there are colours that can be created in RGB that cannot be created in CMYKORVk or CMYK. This problem is most apparent on bright or fluorescent colours.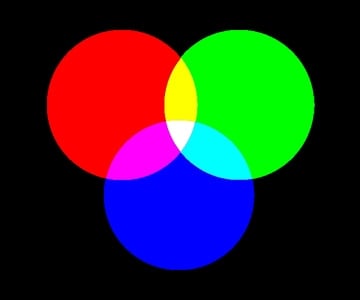 Screen (RGB)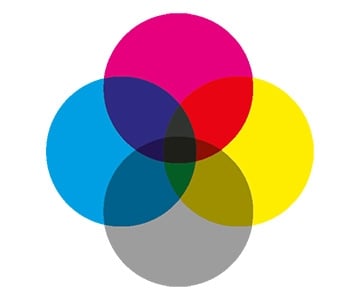 Print (CMYK)
---
Our Promise
Fast Turnaround

All orders shipped within 5 working days

Superior Quality

Fabric printed in our UK production facility

Expert Advice

Knowledgeable team who are always happy to help

5 Star Rated

Rated "Excellent" by our customers on Trustpilot™