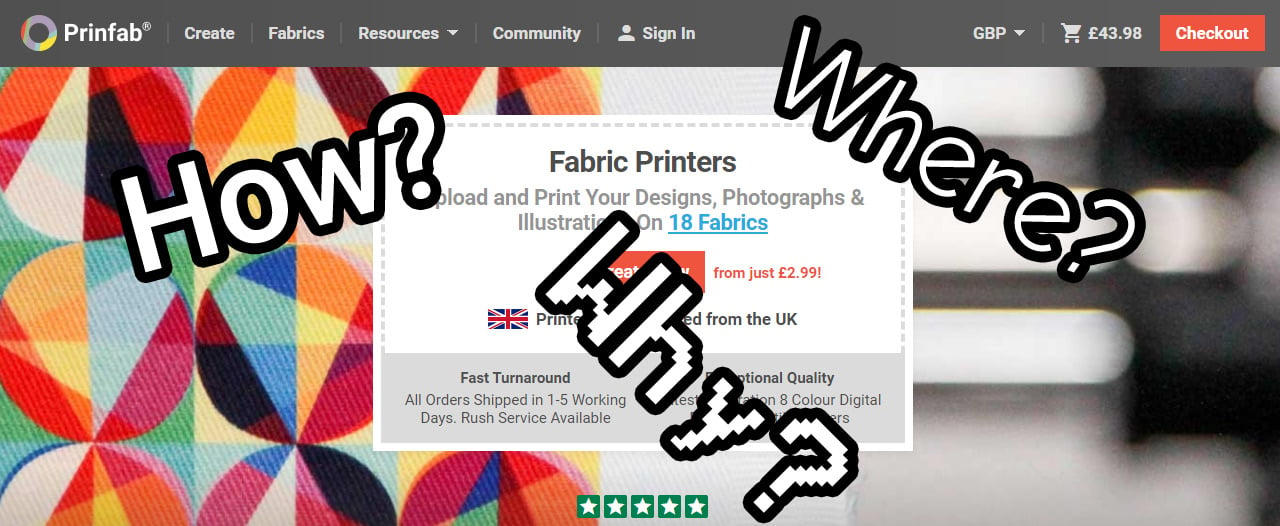 How to get started using the Prinfab website.
Confused? Don't quite know how to use Prinfab? This guide should answer all of your questions and get you down the road to printing your own custom fabric at Prinfab.
Contents
How To Video

This how to video gives a quick rundown of how to upload and set up a file on Prinfab:
Setting Up Your Image

Before doing anything else, you will need to prepare your image file.

Prinfab can accept a number of different image formats:

We recommend sizing your image to the dimensions you want at 180DPI.

For further information, please refer to the Prinfab design guide.
Uploading Files

First, you will need to navigate to our create page. There, you should be presented with something like the following image: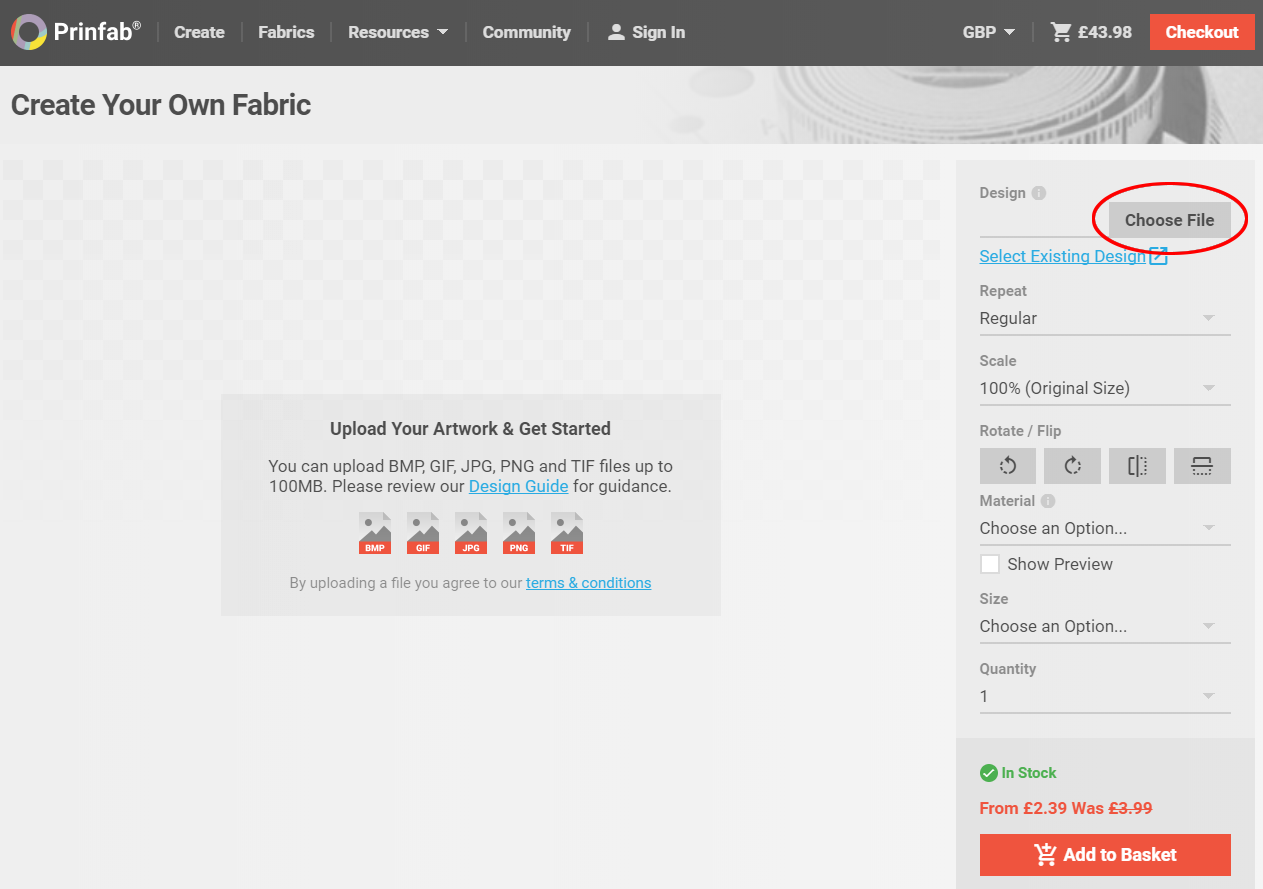 To upload a file, you simply need to click the 'Choose File' button and navigate to the image on your computer.
You can also drag and drop files straight from a folder on your computer to the page, and they will commence uploading.
Once you have uploaded an image, you will be able to re-select them using the 'Select Existing Design' link.
If you create an account, your designs will be saved there forever. If you are not logged in, your designs will be deleted after 2 weeks.
Choosing Repeat, Scale, Material and Cut Size
Repeat

In this dropdown box you will find a few options:
| | | | |
| --- | --- | --- | --- |
| None | | Center | |
| Regular | | Half Brick | |
| Half Drop | | Mirror | |
Fit Maximum

Fit Maximum is a special type of repeat that tries to fit the maximum number of copies of an image on the fabric and cut size chosen.

This is really useful if you are creating products from your fabric and want to fit the maximum number of panels onto a print, saving you money!

Scale

The scale option allows you to make your image bigger or smaller (e.g. 50% of the original size, or 200% of the original size).
Also presented are the 'Cover' and 'Contain' options, best explained with an image:

The contain option sizes the image so that it just fits inside the print area.
The cover option sizes your image to completely cover the print area.
Material

Here, you choose the Material you would like to print on.
The best place to find out about all of our fabrics is the Prinfab Fabric Guide.
You can also order a sample book that contains pre-printed samples of all of the fabrics we offer, so you can try them out before committing to a larger purchase.
Cut Size

The last choice is the cut size. We print onto certain sizes of fabric, so you will have to choose the size that best suits your needs.
Choose from:
Swatch (small 20x20cm samples)
Fat Quarter (a quarter of a Linear Metre)
Tea Towel (only available on select fabrics)
Linear Metre (full width of the fabric, 1 metre long)
Other Options

There are a few other options on the create page:
Flip
Rotate
Quantity
Show Preview
Flip & Rotate should be self explanatory - they flip and/or rotate your image.
The Quantity box allows you to print multiple copies of the same print.
The Show Preview checkbox updates the preview to show a render of what your print will look like on the chosen fabric.
Please note that this is only a preview, we have done the best we can to make it look as much as possible like the fabric in question, but of course it will differ slightly from the actual printed fabric.
Add To Basket

Once you have chosen all of the required options, simply add the item to your basket by hitting the 'Add to Basket' button at the bottom.

Once the item is added to your basket, you can check out like on any other online shop.
Delivery

The last step before entering your address and payment details is to choose a delivery option.

The delivery time consists of two things:
The time it takes us to product the printed fabric
The time it takes to get from our production facility to your door
Each fabric has its own lead time when it comes to production. Some are very quick, 1-2 days, others take a bit more time.
Standard

The Standard delivery option is a 2-3 day service. Once we have printed, dried, cut and packed your fabric it would take 2-3 days to reach you.
Express

The Express delivery option is a next day service. Once we have printed, dried, cut and packed your fabric it would be with you the next working day.
Rush

The Rush delivery option is a bit special. Rush delivery reduces the time it takes to print, dry, cut and pack your fabric so your order will be with you even quicker.

It is then sent using a guaranteed next day service.

In general, if you order using Rush delivery, your order will be with you within 1 working day.

If you need your printed fabric in a hurry, then the Rush delivery option is the best choice.
Further Help

If you need further help, be sure to check out:

And if you are still not sure what to do, feel free to get in touch and we will do whatever we can to help you on your way.